Dear Team Jefferies,
Jefferies is not our more than 40 wonderful offices around the globe. Jefferies is not our $55 billion conservative balance sheet. Jefferies is not our brand name that we have all been working so hard to build over 60+ years. Jefferies is not the trillions of dollars of transactions that we have consummated on behalf of our global client base to allow them to best achieve their most important goals. Jefferies is not our revenues, net income, current stock price or market capitalization.
JEFFERIES IS OUR 5,483 EMPLOYEE PARTNERS WHO CHOOSE EVERY SINGLE DAY TO PROUDLY AND FIGURATIVELY WEAR OUR NAME ON THEIR WORK JERSEYS.
The following chart vastly oversimplifies the human capital history of our firm: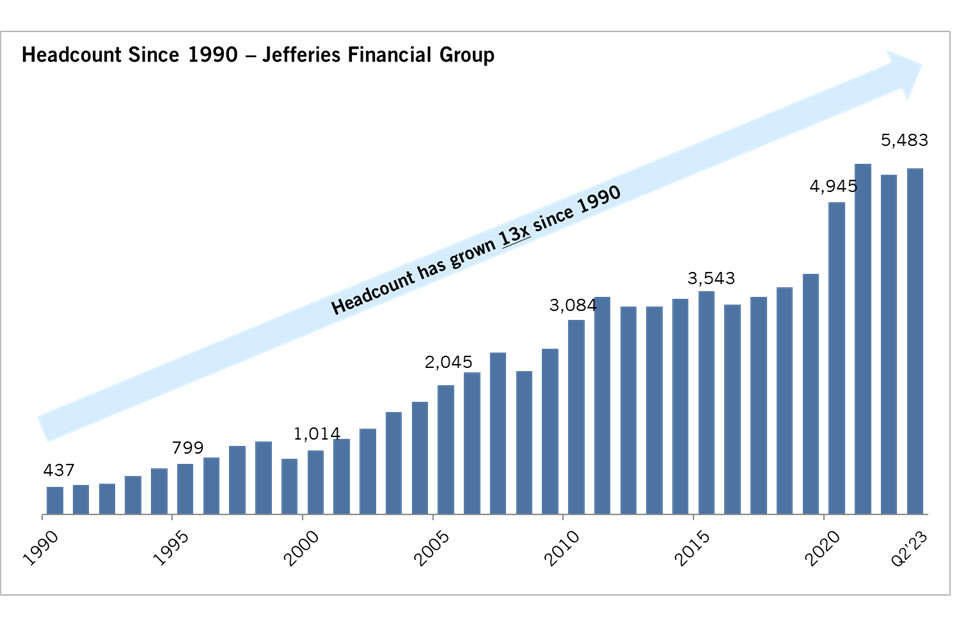 While it is remarkable to step back and observe how Jefferies has grown, adapted and evolved during all types of market opportunities and dislocations, the reality is that there are many more important thoughts and lessons than the numbers that the two of us see from our combined 50+ year history, wearing the same Jefferies jersey as all of you. We share these thoughts with all of you as we take a moment to remind ourselves that, while the capital markets at today's snapshot in time are not particularly cooperative or enjoyable, this is more than made up for by the fact that we have never been more excited about the quality of our global Jefferies team.
Observations and thoughts regarding Jefferies' human capital over the decades and today:
Quality vs. Quantity. Sure, you need critical mass to truly make a difference in the financial services industry, but the more important driver of success is the quality of people on the team. A smaller firm made up of top-quality individuals will punch way above its weight against the behemoths that rely mostly on scale. Committed, nimble, creative and cooperative are the traits that have always defined Jefferies' human capital. That will always be the priority and the fact that we now have the added benefit of scale (without sacrificing an iota of quality) should be beyond exciting to everyone of us.
No Arrogance During Good Times Allows Us To Play Offense During The Bad Times. Unfortunately, the best time to attract the highest quality new joiners is when the world is upside down. The best people are never mercenaries and generally do everything in their power to help their existing firms in times of stress. The cold reality is that in many times of extreme volatility, for one reason or another, these firms wind up leaving their best people. All of us at Jefferies understand this. That is why we work so hard to stay humble during good or great times so we don't get careless or sloppy when the world inevitably reverts to some pain. We are certainly not immune from the bad times and, for example, right now is certainly not pleasant nor fun. But this environment presents one of those windows of opportunity where we can make smart investments in human capital for the benefit of all of our collective futures. Like all good things, this will require some short-term investment, and then there is always a lag time before rewards will be reaped. We have been executing this strategy with all of you for the past 33 years, and we know of no other way to more smartly or prudently grow our capabilities, market share, brand, and value.
Robust And Confident Existing Team. If our current culture isn't rock solid, it is impossible to attract the best new joiners to our cause. Our existing team must have strong elements of selflessness, an honest commitment to collective long-term success, and a deeply ingrained honesty regarding finding and adding to our team the skills, experience and relationships that may not currently exist within Jefferies. If we are honest about ourselves and what additional skills/relationships will bring further success to our clients, we can all be confident and helpful in recruiting new Jefferies partners. Existing Jefferies leaders know that bringing in quality partners is not a threat, but rather the easiest way to lift all individual boats, as well as the main ship we collectively pilot full speed ahead. This mentality is not common on Wall Street, and that is one of our most effective differentiators.
Self-Selecting And Rigorous Recruiting Process. While not always possible, it is beneficial to have as many people as practical within Jefferies be part of the recruiting process. The more Jefferies people new joiners meet, the clearer it will be to them about whether our jersey will be the right fit for them. Our culture is one of flatness, transparency, living in the trenches with each other and our clients, cooperation and teamwork, tenacity and commitment. If the new joiner is not energized by this approach, our jersey is the wrong firm for them. We also greatly value references from people we know and trust and the beauty of our current position in our industry is we can easily triangulate almost everything we need to know about a potential new recruit with ease.
Never Forget Who Brought Us To The Party. What makes our firm most special is the fundamental understanding that our existing team is remarkable, impeccably qualified, proven and respected. We would not be able to accomplish anything without the people who have built Jefferies before us and with us. A big part of what drives us so hard every day is to make Jefferies the most important, durable, diversified, and dependable firm for every one of us and our clients and stakeholders. We know if we don't invest, grow, protect our foundation, prioritize our clients' needs and stay true to our culture, we will be letting our team down. The status quo is never enough to build a great company. Fortunately, all of us who have been at Jefferies for a bit know that it is always in our ethos to make sure we constantly push each other to adapt, improve and grow. We are a firm that knows we have no choice but to always live outside our individual and collective comfort zones.
Not Everyone Is A Long-Term Fit. Some people may find that finance, or simply Jefferies, is not for them. Some people may have other priorities or goals that can best be achieved elsewhere. Sometimes there just isn't a good fit between skills and needs. This doesn't mean that people who are asked to leave Jefferies (or do so on their own accord) are inferior, unworthy, or lacking in any important way whatsoever. It doesn't do them any good to stick with us longer than they think it makes sense and the same goes for us. What matters is that when these situations occur, they are done with fairness, respect and maturity. Many ex-Jefferies people have gone on to do tremendous things career-wise, and many are treasured friends, cheerleaders and clients. It's also the right thing for our existing team to make sure everyone truly deserves to be on the team. This is a touchy and difficult process, but we have consistently dealt with this as fairly and humanely as possible for the past 3+ decades we have been here. It is never perfect, and we always try to improve, but this is an important part of who we are. None of us should ever take for granted that wearing the Jefferies jersey is also a privilege.
Blending Experiences And Opportunities. Magic happens when great people from different financial services firms come together and share ideas, perspectives, clients, and ways of achieving objectives. Looking back at the historical chart of our people, almost all (except for our youngest) came from different firms at one time. Jefferies has the magic of allowing people to take all the good that they learned with them from other firms, leave whatever bad behind, and add even more positive dimensions to our firm. The result is an accepting culture that is always evolving and growing and is never stale or complacent. We don't know of another firm in our industry that can say the same thing. For an added chuckle, it is fun to think of all our competing firms that like to label us negatively to their people and clients in order to more effectively compete with us. Somehow, just yesterday (when the person worked for the competitor), they were highly respected. We are pretty sure there isn't anything magic in our turnstiles that transforms that person instantly into being someone a client should avoid once they join Jefferies. And by the way, that turnstile has mostly moved in the same direction over the decades!
For Each Of Us, Jefferies Started The Day We Began. We all see the world through our own personal lens. In our brains we all know that this firm was around before any of us ever heard of it, but in our hearts we all believe Jefferies REALLY got started the day each of us joined. We love the fact that our people truly believe this. It tells us that they are "bought in" and committed to making their mark on our firm. One of the best parts of being at Jefferies is that we all believe (because it is true) that each of us can make a difference at this firm. Yes, we are no longer the small, scrappy underdog in theory, but then again, we certainly aren't a firm that is so set in its ways that it is impossible to move. Every day, we see one person (or a few people) do something that none of us thought was possible and suddenly our firm advances in an entirely new direction. This happens more often than anyone could imagine. It is what makes Jefferies special, and every one of us is responsible for creating and sustaining the culture that will perpetuate this. The fact that we are still in the very early days of building our company as we compete with a handful of mega-bank holding companies is what drives us all, every single day.
We are grateful for each of you that wears the Jefferies jersey. For those of you who are about to put it on for the first time (and for those that will follow), you are welcomed with open arms. Today, Jefferies is halfway through a very volatile, complicated, unfun 2023 fiscal year. None of our competitors are in a better place, and many wish they were us. We will just focus on what we know will one day reap many rewards:
Giving 100% on a daily basis to help our investing and issuing clients best achieve their objectives regardless of the environment.
Investing in our team and new partners so that we will be able to even better serve our clients when the capital markets formation returns in a more regular manner (it always does).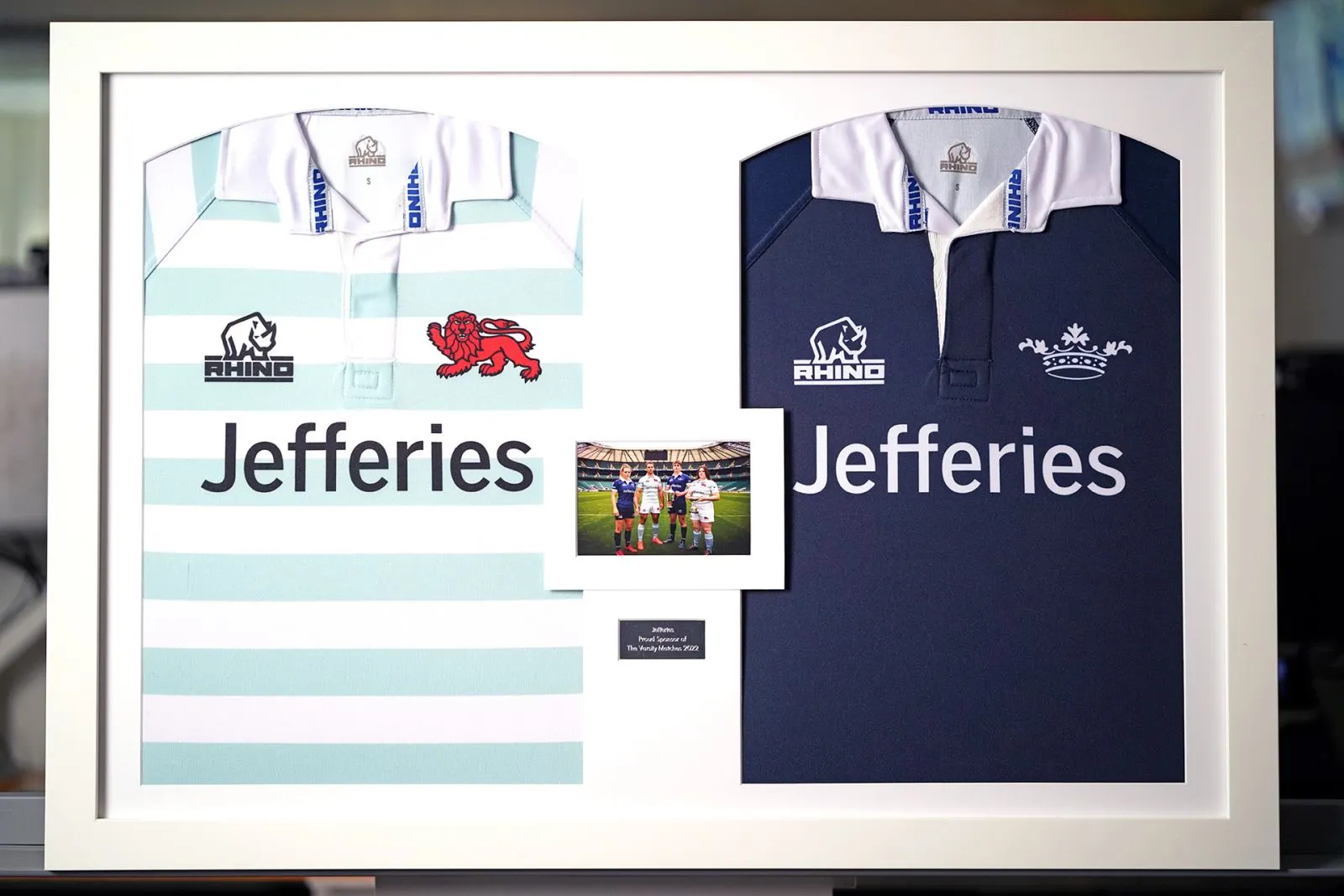 Putting on our same Jefferies jersey today with every one of you and getting back into the game for the second half of our year,
Rich and Brian
BRIAN FRIEDMAN
President, Jefferies Financial Group
1.212.284.1701
[email protected]
he, him, his